AGM 2021/22
The AGM will take place on Thursday 27th January at Manston Sports & Social Club, Daigor Lane, High Street, Manston, CT12 5BG at 7.30pm start
Notifications for proposals etc will be out shortly
Facebook Group
Join our facebook group and keep updated on league information, click the link on the bottom of the left menu.
EKCPL Doubles - 12th Sept - Charlotte Court Ramsgate
12 Teams turned out to the Doubles and a great day was had by all.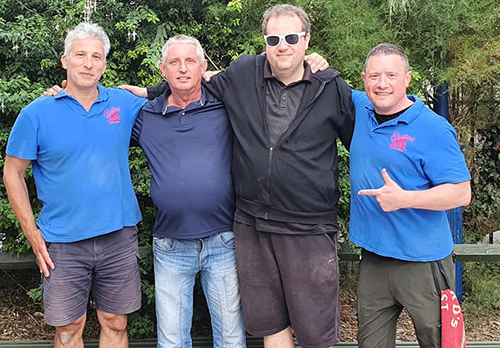 Main Winners - Paul Dennis & Todd Hornus
Runners up - David Roberts & Matt Shinebourne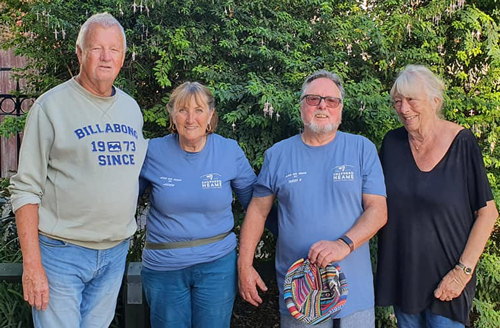 Plate Winners - Terry Fearn & Jackie Pots
Runners up - Peter & Linda Savage
EKCPL Singles 22th Aug
Broadstairs Cricket Club
Unfortunatly probably because of the initial morning thunderstorm and other reasons, a very small turn out of 4 people for this event.
The weather had cleared so we decided on round Robin and It was closely fought with each player on one win after the 2nd round.
Winner - Alan Cregeen, Runner Up - Martin Wiltshire, 3rd - Paul Dennis & 4th - David Robert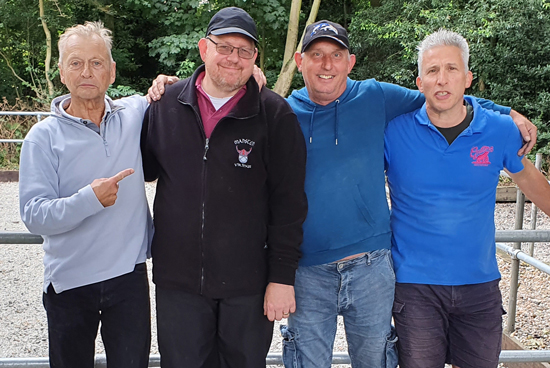 EKCPL Triples - Sunday 8th Aug
Manston PC
Unfortunatly we didnt have a good turn out with only 7 triples turning out, but we had a good games.
| | | |
| --- | --- | --- |
| Main Winner | Runner Up | Plate Winner |
| Todd Hornus, Paul Dennis & Alan Cregeen | David Robert, Matt Shinebourne & Paul Hunniset | Doug Bell, Val Robbins & Kathy Bracey |
Five Bell A
Invitation for a friendly match against Five Bells A any Tuesday at about 2pm, please contact
Terry James
01304 614245
terryjames.gg@googlemail.com
EKCPL Singles, Double & Triples
Apart from Manston no other clubs have come forward so we will start these at Manston.
If any club have the ability and would like to host one of the following events then please let me know at playingsecretary@ekcpl.co.uk.
The dates will be as follows (i have moved the first date to allow me time to arrange)
Triples 8th Aug - Manston
Singles 22th Aug - Broadstairs Cricket Club
Doubles 12th Sept - Horse & Groom.
A couple of important points relating to insurance
Risk assessments.
There are some venues that have not yet provided risk assessments and we ask you to complete them and return to me as soon as possible please.
Leisure boules (dog boules).
We have had reports of several players in league matches playing with the lightweight shiny boules. These are not permitted under the international rules by which we play for the very good reason that they are likely to shatter if hit hard by a proper boule and then shards of sharp metal can fly everywhere which is obviously dangerous.
After July 1st anyone trying to play in any EKCPL match with leisure boules will be excluded until they have obtained approved boules. The most cost effective boules are available online from Decathlon, costing £39.99 plus delivery at https://www.decathlon.co.uk/p/3-alpha-competition-solid-petanque-boules/_/R-p-161973?mc=8388731
Fixtures
Will teams please let your opponents know if your not able to make a fixture with plenty of time so they can inform their team not to turn up.
League 2021
Due to the coronavirus restrictions etc, for this season the committee have decided no food will be required after matches.
Hopefully we will resume normal service next year.
League Fixtures
Fixtures are now in place for this coming season, any issues please contact the Playing Secretary
FIPJP have released a new set of rules which are now on the site, there are a few changes one being how far from the strings your allowed to throw the coche, but probably a few more.
Playing Guidelines as of 29th March 2021
(these were released by Petanque England inline with government guidelines)
Key points in our Guidelines:
Only formally organised pétanque can take place between more than six players or two households;
To qualify as formally organised, our Play Safe Guidelines must be followed and venue risk assessments must be carried out;
Subject to a risk assessment confirming that there is sufficient space to maintain social distancing, the numbers allowed at a venue can be as many as can be safely accommodated;
Club play, leagues, competitions are all allowed to take place if formally organised;
Toilet facilities, even if they are inside, can be open, but always be aware that the there is much higher transmission of the virus indoors;
You can travel to play in organised pétanque activities in England but you cannot stay overnight;
Only players, officials and volunteers directly involved in any activities/organisation are allowed to attend, no spectators;
Off pitch, you should not gather in groups any larger than six people in one group you should not mix with anyone in another group the whole time you are at the venue;
Maintain social distancing at all times – 2 metres or if not possible, 1 metre with mitigation (face mask or standing side on);
Do not share equipment and avoid touching surfaces that may have been touched by other players;
Maintain hand hygiene – sanitise regularly;
Our ability to play formally without restrictions on numbers depends on players and officials following our Guidelines. We have been warned by the Government that any sport that is not able to follow its own Guidelines may have restrictions imposed.

The full PE document can be read here
Unfortunatly Blean Gulls have insufficent players to enter a team this year, but the remainder are looking for a team to join so If any division 2 teams are looking for new players please contact Jan Spurway on 07779411817.
Results
2021 WINNERS
League Doubles
Paul Dennis & Todd Hornus
League Singles
Alan Cregeen
League Triples
Alan Cregeen, Todd Hornus and Paul Dennis
Division 1 Winners
Broadstairs PC
Division 2 Winners
Whitstable Reefs
Division 3 Winners
Whitstable Grattons
2019 WINNERS
League Singles
Graham Murphy
League Doubles
Alan Cregeen & Paul Dennis
League Triples
Marcus, Callum & Ethan Hickman
Hatton Cup
Broadstairs Pirates

Jennifer Skudder Trophy (Plate)
Manston Woodpeckers

League Division One
Broadstairs A

League Division Two
Horse & Groom A

League Division 3
Charlotte Court B
THE 2018 WINNERS
League Doubles
Alan Cregeen and Paul Dennis
League Triples
Alan Cregeen, Michelle Cregeen and Paul Dennis
League Singles
Max Boyce
Hatton Cup
Dover Bells
Jennifer Skudder Trophy (Plate)
Magpies
League Division One
Brown Jug A
League Division Two
Brown Jug Pirates